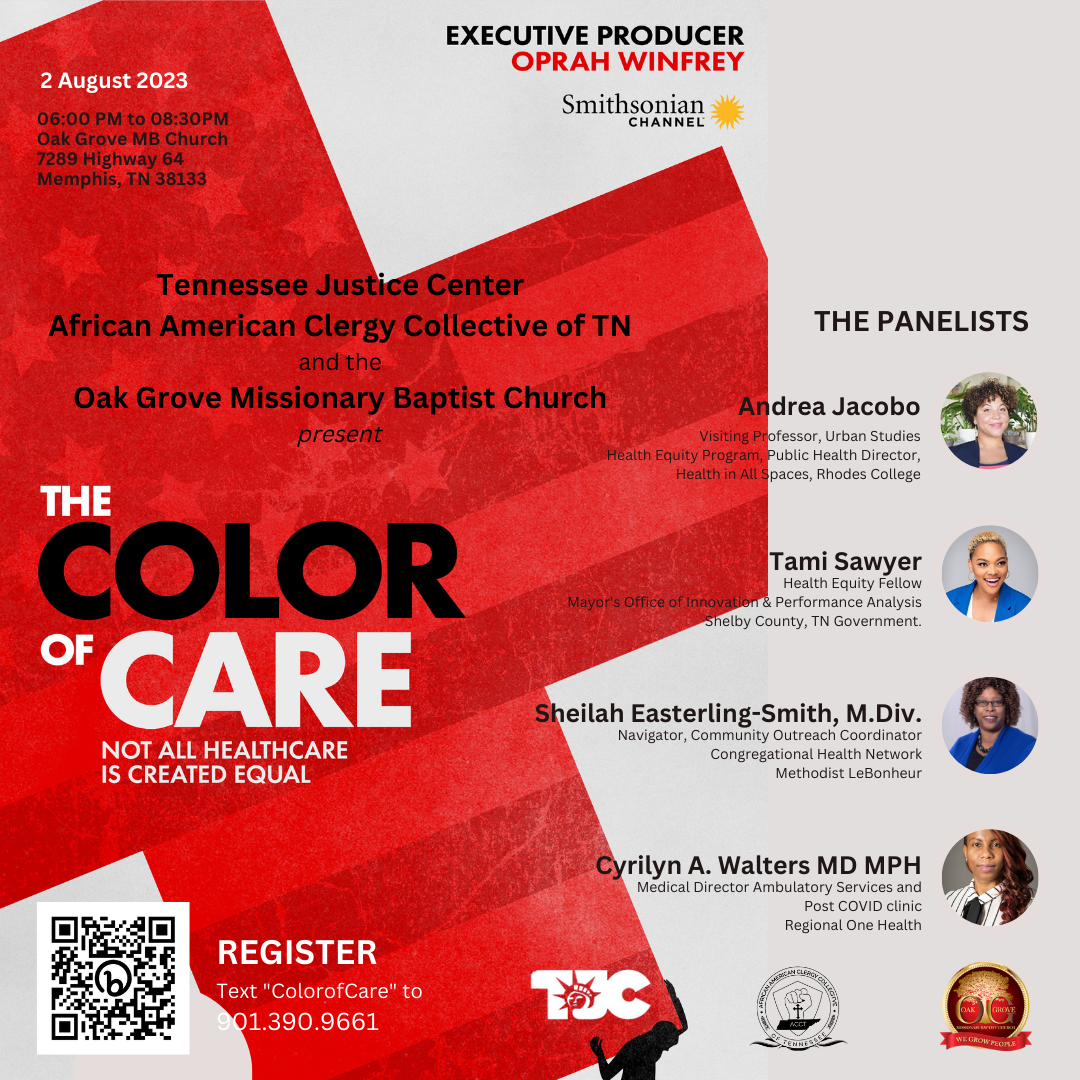 The Color of Care
91
91 people viewed this event.
The African American Clergy Collective of Tennessee (ACCT), the statewide organization birthed from the Black Clergy Collaborative of Memphis (BCCM), is partnering with the Tennessee Justice Center (TJC) and Oak Grove Missionary Baptist Church to host a viewing of Oprah Winfrey and the Smithsonian Channel's documentary, the Color of Care.
The original documentary, which chronicles how people of color suffer from systemically substandard healthcare in the United States and how COVID-19 exposed the tragic consequences of these inequities, serves as an impetus for a vital reckoning around health equity and is part of a broader effort driven by the Smithsonian Channel™ to move conversation and action around this topic forward.
ACCT, TJC, and Oak Grove Missionary Baptist Church are partnering to bring the documentary to Memphis on August 2 at 6:30 p.m. CDT. At Oak Grove, immediately following the documentary, panelists Andrea Jacobo, Visiting Professor, Urban Studies, Health Equity Program, Public Health Director, Health in All Spaces, Rhodes College, Tami Sawyer, Health Equity Fellow, Shelby  County TN, Mayor's Office of Innovation & Performance Analysis, Sheilah Easterling-Smith, M.Div. Navigator, Community Outreach  Coordinator, Congregational Health Network, Methodist LeBonheur, and Cyrilyn Walters, MD, MPH, Medical Director Ambulatory Services and Post COVID Clinic, Regional One Health will discuss the documentary, the urgency of expanding Medicaid, and other relevant issues.